Libertatea digitală contează, asta ar trebui să înțelegem din documentarul Killswitch, prezent anul acesta în programul festivalului One World România. A spus-o Bogdan Manolea la dezbaterea care a urmat vizionării filmului și sunt întru totul de acord.
Killswitch și CitizenFour, două documentare care n-ar trebui ratate. Asta, dacă vrei să afli de ce e importantă libertatea digitală și neutralitatea Internet-ului* și cum ne monitorizează guvernele datele personale și activitatea online sub pretextul protecției naționale. Accentul cade pe guvernul american, însă legile BigBrother, de care ne-a salvat Curtea Constituțională pentru moment, rămân o amenințare și la noi.
 'You control information, you control wealth, you control power', spune Peter Ludlow (New York Times) în documentarul Killswitch. 'I do not want to live in a world where everything I do, everyone I talk to is recorded', spune și Edward Snowden. Iar Tim Wu, profesor la Columbia Law School, cel care a patentat expresia 'net neutrality' în 2003, adaugă: 'Governments tend to like information monopolies as it increases their power'.
O altă temă bine documentată este accesul deschis (en. open access), principiul care trebuie să stea la baza Internetului, iar Aaron Swartz a fost unul dintre cei mai mari luptători pentru Internet liber și acces deschis. În mare parte, Killswitch este construit pe povestea lui Swartz, cu intervențiile foarte interesante ale lui Peter Ludlow, Tim Wu și Lawrence Lessig – profesor la Harvard și mentorul lui Swartz. Așa cum CitizenFour spune povestea lui Edward Snowden din momentul în care acesta a decis să ia legătura cu Laura Poitras, realizatoarea documentarului premiat la Oscar anul acesta.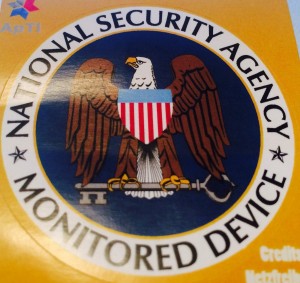 Ceea ce trebuie să rețineți e că supravegherea în masă – sub pretextul luptei împotriva terorismului – rămâne valabilă, în ciuda acțiunilor curajoase a câtorva avertizori publici (en. whistleblowers) precum Snowden. Până una-alta, mi-am pus sticker pe telefon cu mesajul 'NSA monitored device' și am început să folosesc motorul de căutare Startpage.com. Pe care vi-l recomand. Pe pagina de întâmpinare, ni se spune că Startpage ne ajută să căutăm și să obținem rezultate din Google search, fără să mai fim urmăriți și înregistrați. Startpage îndepărtează orice informație care te poate identifica pe tine-utilizator și plasează cererea ta pe Google în regim de anonimat. Ei primesc rezultatele și apoi ți le trimit 'in total privacy'. Deci, se poate. Întrebarea (retorică) rămâne: 'de ce Google nu respectă viața privată a utilizatorilor săi?
Your IP address is never recorded, your visit is not logged, and no tracking cookies are placed on your browser. When it comes to protecting your privacy, Startpage runs the tightest ship on the Internet. Our outstanding privacy policy and thoughtful engineering give you great search results in total anonymity. Here are some of our key features:

Free proxy surfing available.
Praised by privacy experts worldwide.
Fourteen-year company track record.
Third-party certified.
No IP address recorded.
No record is made of your searches.
No identifying or tracking cookies used.
Connection using powerful SSL encryption.

To learn more, check out our privacy page and read our privacy policy.
Și un experiment online interesant, propus de National Film Board din Canada: proiectul online 'Do not track'.
Do Not Track este numele unei serii de documentare personalizate despre viața privată și economia web. Dacă vei împărtăși datele tale personale, platforma donottrack îți va arăta ce știe Internet-ul despre tine, legăturile care se fac între social media, site-urile pe care intri etc. Seria de documentare analizează modul în care sunt colectate informații despre tine și cum sunt folosite. La fiecare două săptămâni, vor lansa un episod personalizat care va explora diverse aspecte despre cum Internetul devine tot mai mult un spațiu în care ceea ce facem, discursul nostru și identitățile noastre sunt înregistrate și urmărite.
* conform principiului de neutralitate a Internetului (en. net neutrality), distribuitorul de Internet trebuie să îți dea conexiunea online, fără să se implice în traficul tău; mai multe detalii AICI și AICI.