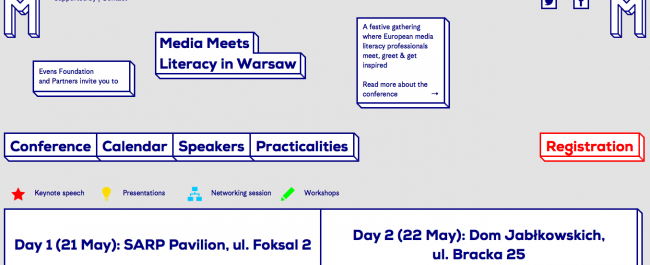 OPEN REGISTRATION for the 'Media Meets Literacy' in Warsaw, 21-22 May 2015
OPEN REGISTRATION for the 'Media Meets Literacy' in Warsaw, 21-22 May 2015. FREE networking event on media literacy education. MEDIAWISE Society is the proud partner in Romania.
We also take this opportunity to make public our initiative in South-East and Central Europe to gather media education practitioners into a regional community. We have already started to contact people and organisations in the region about this. Our all-day workshop in Warsaw will give us the opportunity to meet face-to-face and discuss how to better set off a collaborative network.
Workshop presentation:
MEDIAWISE Society invites you to join discussion on the potential to build a Media Literacy Network in the CSEE region. In order to advance media literacy education, independent initiatives need to come together to create partnerships, with both local and regional reach, that (1) make media literacy education more popular, (2) develop media education resources, training and research, (3) act as advocates for policy. During a hands-on workshop we will try to answer questions on what the network might look like, the sort of media literacy initiatives it could encourage, how to better organize it.
We will keep you updated with the developments of our initiative. You may also contribute with ideas and comments on our discussion FORUM. Feel free to share to any friends/organisations that would be interested in the event. English is the official language of the conference.
Materialele autorilor invitați reflectă opiniile proprii și nu reprezintă în mod obligatoriu poziția oficială a Mediawise Society.